I was prepared to DNS this post but finally got around to it, not that there is much to post. I came really close to not even heading out to the race. I battled a knee injury all winter and never really got in any kind of proper training and never lost my "winter" weight.
So on race day, I got up early, under trained and over weight and made the long drive out to the Grasslands 50. Then the traffic...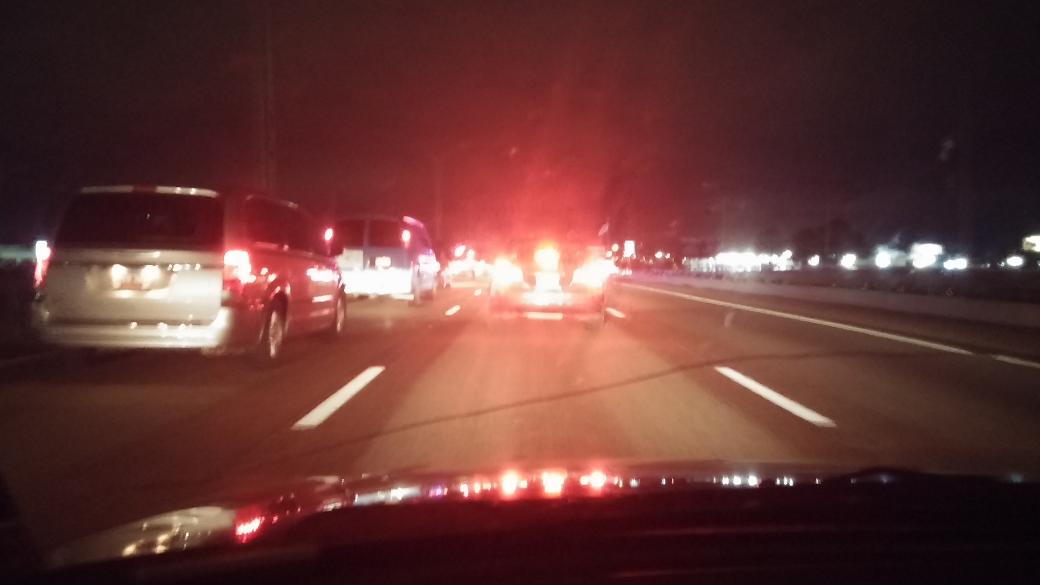 Yes, traffic at 4:30 in the morning. The joys of living in the DFW area. This stop gave me time to formulate a race strategy: go slow enough to try and not die but fast enough to beat the cutoffs. I had 4 runs over 10 miles in the past 3 months, so I was good to go, right?
I finally made my way to the race and quickly accepted the fact that I probably wouldn't have time to prep things, use the port-o-pot, and start on time. I took care of what needed to be done and started about 5 min late.
This would be my 3rd time to attempt this race and I thought that I knew the course. However, I quickly found myself aimlessly wandering through the parking area wondering where all the other 50 milers had gone. I finally ran into a parking attendant and he pointed me in the direction that the faster and on time runners had gone. I eventually started catching and passing runners on the out and back and immediately figured I was going way to fast for my current condition. Oh, and there was mud, lots of mud.
I made it back to the Start/Finish area and took a few minutes to finalize things that I had neglected earlier in an attempt to not start too far off the official start time. I headed out on the 1st loop feeling pretty good but forcing myself to take walk breaks and keep things slow. I was focused on just finishing and wasn't going to drop from Grasslands 50 for a
THIRD TIME!
I finished the 1st lap muddy, moving slow - really slow - but feeling good. The 2nd lap was uneventful outside of the mud. The never ending mud. Did I mention the mud? Mud! I seriously considered dropping for a
THIRD TIME
at the end of the 2nd lap. It was mud beyond absurd, I was under trained, I was on a ridiculously slow pace, and dropping sounded a lot better than starting the 3rd loop. However, I felt fine... I couldn't think of one excuse to drop. I tried but not one excuse was legit, so I started the 3rd loop.
The mud wasn't as bad on the start of the 3rd loop, the company was pretty good, and I was moving a bit better. I was still forcing myself to slow down knowing that there was still a ways to go. Then the
MUD
returned! (Grasslands is a Clover Leaf like course and you run certain sections multiple times) The mud was demoralizing at this point and I was just ready to dry off, hit the road home, (Oxford Comma!) and have some beers. Also, I was on pace to finish over 2 hours off my 50 mile PR!?!?!
Luckily, there was a good number of enthusiastic volunteers and finishers from the 50 mile and other distances at the Start/Finish line when I ended Loop 3. They basically made dropping a non-option and I loaded up on gels and hyped myself up to finish this race. I charged off on Loop 4 with finishing being the only option until it wasn't.
I stopped on top of a hill with great views and spent about 20 minutes walking back towards the finishing line convinced I was going to drop and then turning and walking towards the next aid station convinced that I was going to finish. The back and forth and the back and forth. Then finally a couple more runners came through and they convinced me that we were all going to finish. Oh, then it started to rain! That really helped the mud... A group of us made it to the last aid station, the very last aid station, the only option at that point was to finish.
Rain, mud, mud, mud and then a finish.
But, oh but, but, but that wasn't the finish! Long story short, my car got stuck in the mud and was stranded out at the LBJ Grasslands for nearly a week before I could retrieve it.
Fortunately, race director Chris Barnwell, his wife Anne, and Drew Meyer, Volunteer Coordinator, went way above and beyond anything that I expected. With my car stuck and no options for getting it out (the biggest truck out there had already failed to pull it out of the MUD MUD MUD) they took me in and cared for me. A sleeve of Oreo cookies and a shower was amazing. Then they drove me back into town, pulled over on the side of the road and waited for me to get past my nausea, treated me to dinner, and waited for my wife and family to pick me up.
I really can't say enough about their hospitality and will be back to run Grasslands or volunteer as long as they are associated with the race. We all enjoyed chicken fried steak and some great stories. Chris and Drew are some very accomplished ultra runners and I thoroughly enjoyed listening to their stories while eating some chicken fried steak.
My amazing wife and family picked me up in the middle of the night in a far off and remote place (this is a recurring theme!) and got me home. I showered and enjoyed a beer.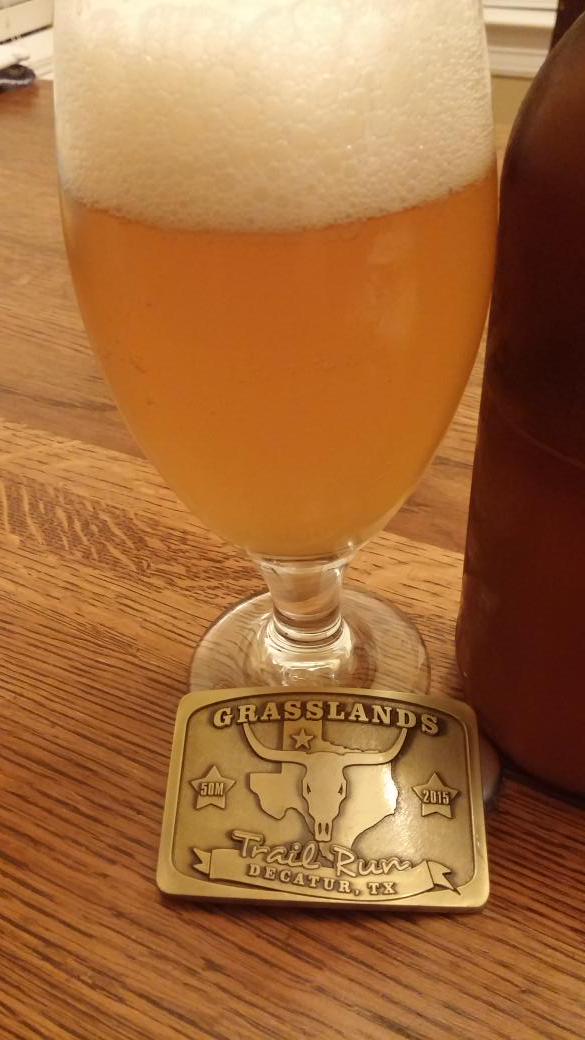 Recover wasn't really an issue, who needs to recover from a 50 mile hike?! I did suffer through some poison oak or ivy that I picked up. That and my scratched up legs were the biggest post race issues.